---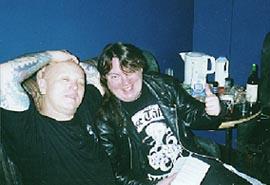 This Interview with Rose Tattoo took place back stage after The Tatts show at the Glasgow Cathouse on 6/6/2001 during the bands 25 to Life U.K. Tour. Thanks to John Shearer for this one Read on.!!!



---



How does it feel to be playing back in the U.K. again?

ANGRY - I am absolutely fascinated with so much that Iíve forgotten or didnít notice the first time around so itís a whole new experience for me.

Thatís Cool?

ANGRY - Yeah, yeah it's great, I'm enjoying it immensely.

When is the new studio album going to be released?

ANGRY - You canít actually put a time on 'em you know, situationís in whole you might not expect them to. So we donít actually know what all this is going to end up being. So if we donít know what its gonna be until we actually get there something further down the track until we actually know whatís going on. Until then its just get up playing at Rock'N'Roll gigs...very simple...and thatís simply what we like to think about at this stage.

Will the new album be released on SPV Records?

ANGRY - Well if that ever happens, Atlantic Records might come back and make us a multi-million dollar bucks.

Will you be coming back to the U.K. to promote your new studio album once it gets released?

ANGRY - If that ever happens that will probably be the first thing we will do.

Will this be the permanent line up for Rose Tattoo?

ANGRY - Well yeah I think it's as good, itís the best line up you can put together at this time. I mean the band are Rock'N'Roll band. So itís a good combination chemically.

I was at the Wacken open Air Festival in Germany last year. I thought you played a fantastic set and it was an excellent performance you did. Will the show be released as an Official Video or DVD release?

ANGRY - I will turn you over now to the administrative guiding influence of the band.

Whoís this?

ANGRY - Peter will tell you all about videos. Thereís a very interesting story to tell here

PETE - Maybe...maybe...they want to do a DVD of it...there's problems over money.

Not VHS/PAL format?

PETE - VHS was to pricey. Theyíre pretty keen on doing a DVD, but because of the situation itís quite difficult. SPV have been taken over by another company. So weíll need to find out more details about it. So we need an independent company thatís going to do it and finalise all the bands from SPV, which we should hear from them soon, it gets quite complicated so I donít know. Iíll know more in a couple weeks.

Did you enjoy touring with Rainbow way back in 1981? Did they treat you OK?

ANGRY - Definitely ate in some of the best curry houses in England.

Did Rainbow treat you well?

ANGRY - Yeah...Ritchie Blackmore knows where every great Curry House and Restauraunt is. He just took us to these amazing Chinese Restaurants

Did Ritchie treat you well?

ANGRY - Yeh Yeh.Heís a little strange.

PETE - Very amiable.

ANGRY - Very warm...very affectionate.

Angry do you plan to release another solo album?

ANGRY - Not in the near future no. I really want to do like a country sort of John Mellencamp album. I love that kind of music.

Peter do you plan to release another solo album?

PETE - Oh yeah.

Is that with Hateball?

PETE - Same thing yeah.

ANGRY - Actually we should do an album.

Yeah, you should. Would you consider doing Castle Donnington Festival or the Reading Festival if it had a rock day?

ANGRY - Of course oh god yeh, we fully expect them to ask us next year.

Thatís Cool.

ANGRY - Yeh Yeh it would be good.

Would you ever reform Buffalo?

PETE - I doubt it mate no no nothing. Not since the last time we got together.

STEVE - Pete loves John Baxter.

ANGRY - Jimmyís great.

What was it like touring with Guns n Roses back in 1993? Were they kind to you?

ANGRY - Very entertaining...yeah...we got to watch two really mainstream American rock bands and for a couple of days we got to watch up close and it was quite an experience. I would say they were very interesting.

Why did Mick Cocks leave the band?

PETE - He didnít.

ANGRY - Itís not his turn.

Whatís Geordie Leach doing now?

PETE - He runs a strip club in Beirut...JOKE!

Whatís your Favourite Influences and Artists?

ANGRY - Oh, the early guys first, I like Gene Vincent...Jerry Lee...Little Richard and all that. I like mainly the black guys.

Whatís the first word that comes to mind when you think of the late great Dallas Digger Royal?

ANGRY - Ones that make me feel good...heís a lovely man.

Do you still miss him?

ANGRY - Yeah, yeah... always will!!!




---


© 1997-2007 by Peter Gormley

"REMEDY - The Rose Tattoo Home Page" and its contents may not be reproduced, uploaded, posted, transmitted or distributed in any form, or by any means, without prior written consent of Peter Gormley.