---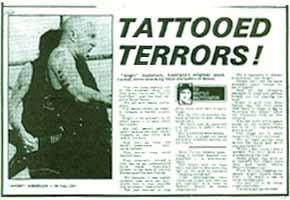 Angry Proclaims The Tatts Still On! 09/04/99
Great news...read on!!!


"Any suggestion from any source that Rose Tattoo are no more or are about to be 
no more is absolute f..king bullshit!" bellows Angry Anderson. "The heart beat 
of this band, the fire in this dragon couldn't be extinguished even if we 
wanted to. And hosing down the flames is the last thing we want to do! Besides 
given the highly emotional, no, heart rendering reception we got in Germany and 
the almost embarassingly strong press that's been filtering through over recent 
weeks about the shows we'd be bloody mad to pull the plug on things! The Tatts 
are looking to the future on both a recording, touring and spiritual level. In 
future the source and authority for all information on the band will be the 
band itself. As it should. Stay young, grow strong."

Angry Anderson

And in a similar vein...


Dear Peter,

Disregard any information about Rose Tattoo from so-called management. 
Rose Tattoo is it's own management and is the only authentic source of any 
and all information regarding the band. The band reunion is holding strong. 
Very positive plans are being made - authentic information to follow. 
Disregard any information not from the source, i.e. Rose Tattoo.

Yours in Rock 'n' Roll

Angry Anderson + Rose Tattoo.


Rose Tattoo reunion comes to an end. 09/04/99



Well it's time to drink
I don't want to think about sorrow
Be one of the boys and make some noise
There's still tomorrow...



An official announcement has come down from Rose Tattoo management that the 
Rose Tattoo reunion has come to an end. The Tatts performed brilliantly
in Germany and were a big hit, but unfortunately, Angry has decided
to continue his career with the Party Boys and the Giants. Pete & Mick
are expected to continue their own projects both in Australia and Germany. 
Stay tuned for more details, including (hopefully) comments from the Tatts 
themselves on the breakup. 


Pete Wells to appear on ABC's Studio 22! 08/31/99

The Pete Wells Band will appear on ABC's "Studio 22" within the next few weeks. 
The show is on Thursday nights, and Jimmy Little appears on the 2nd, so hopefully
Pete will be there on the 9th, or maybe the 16th! Check your Australian tv 
listings! Thanks for the info, Michael...


New Album from Lucy Desoto! 08/31/99

Lucy Desoto, long time member of the Pete Wells Band, is singin' the blues on 
her new release "Take This Veil". The disc also features Pete, Steve King 
(also from the Wells band) and current Tatts drummer Paul Demarco. For more info 
check out the Full Moon Records page...
	


X Live Album In The Works! 08/31/99

A new X live album is in the works, as the band recently reunited for a 
show at the Esplanade. The Sydney rockers, led by Tatt legend Ian Rilen, 
taped the show for inclusion in a two disc live set, where disc one will be 
an Annandale show from their 1992 reunion. The album is expected to be called 
"A Long Time Between Drinks." 


Tatts Dortmund Setlist! 08/31/99

Thanks to the AndyBoy news page here's the setlist from the Tatts Dortmund 
performance of July 1:

		Out Of This Place
		One Of The Boys
		Assault & Battery
		Tramp
		The Butcher and Fast Eddy
		Remedy
		Juice On The Loose
		Astra Wally
		Rock´n´Roll Outlaw
		Bad Boy For Love
		Nice Boys

For more details on the show, as well as an upcoming Tatts tribute, visit
the AndyBoy link above.


Official Tour Announcement & Dates!!! 05/19/99

FOR IMMEDIATE RELEASE

ROCK THOSE BLUES WITH ROSE TATTOO 

Achtung Rock'n'roll Outlaws! The bad boys of rock, Rose Tattoo are heading 
your way. The Tatts will be touring Australia in June prior to jetting off 
to Europe. This tour sees Geordie Leach returning to the Rose Tattoo fold of 
Angry Anderson, Pete Wells, Mick Cocks and Paul Demarco. Geordie replaces 
bassplayer Ian Rilen who performed on last year's national "All Hell Breaks 
Loose" tour. Sydneysiders will still get the chance to see Ian when his own 
classic band "X" supports Rose Tattoo at the Metro.

After a short warm up run blasting Australian ears, Rose Tattoo will turn 
their speakers towards Germany. There they'll be performing at the premier 
outdoor festivals with Germany's most successful band Böhse Unkelz with guests 
such as Danzig and other international rock icons. The shows include Mannheim, 
Dortmund and Berlin and for a finale the Tatts will be special guests for German 
Bike Week, Europe's largest bike rally and bike show. Obviously, since reforming 
a year ago Rose Tattoo is slowly rebuilding its international following. Germany 
is the first big step. Others will follow.

"We've got a strong following in Germany, news filtered over there that we'd 
reformed, when a German promoter approached us to co-headline at the summer 
festivals how could we refuse!". explains lead singer Angry Anderson.
	
Take some time out this June to cure those winter blues with the intensity of 
the hard rocking Rose Tattoo remedy.


ROSE TATTOO

JUNE 1999 TOUR DATES
	
New South Wales

Tues 15 Central Coast Leagues Club, Gosford
Wed 16 St Mary's Band Club, Sydney
Thur 17 Newcastle Workers, Newcastle
Fri 18 Shellharbour Workers Club, Wollongong
Sat 19 Metro, Sydney
Sun 20 Fairfield RSL Club, Sydney
	
Victoria/South Australia

Tues 22 Mercury Lounge, Melbourne
Wed 23 Hallam Hotel, Melbourne
Thur 24 Berri Resort Hotel, Berri
Fri 25 The Edge, Mildura
Sat 26 Bridgeway Hotel, Adelaide
Sun 27 Flinders Uni, Adelaide

Wed 30 BAND FLIES TO GERMANY TO PERFORM AT SUMMER OUTDOOR FESTIVALS


Tatts German Dates w/Geordie!!! 05/09/99

Rose Tattoo will be playing some open air stadium dates this July in Germany. 
The Tatts lineup will be Peter, Angry, Mick, Paul and Geordie! The schedule is:

02.July 99: Open Air in Hagen, Ischeland Stadion (near Dortmund)
03.July 99: Open Air in Mannheim, Maimarkt-Gelände (70,000 seat venue)
04.July 99: Open Air in Salzgitter Lebenstedt (near Braunschweig/Hannover)

The lineup for these shows has Böhse Onkelz headlining, supported by Danzig,
Rose Tattoo, and special guests.


Tatts in Sydney with X!!! 05/09/99

I've been told that the Tatts will be playing Sydney's Metro along with
X! I don't have a specific date for this show, please contact me
if you have any info,


Pete Wells Band - New Album!!! 05/09/99

Finally got my copy of the new Pete Wells band cd "It's All Fun & Games 'Till
Somebody Gets Hurt". It's a fantastic collection of new songs and covers, with
the Wells band sounding better than ever, spitting out a blues/rock grind 
that'll peel the paint off your walls! The icing on the cake, so to speak, are 
the bonus live tracks featuring Mick Cocks on guitar. This cd is available at 
Greg's Music World, whom I highly recommend as a source for Australian music 
of all types. Buy it!


Tatts in the Studio, Angry & the Angels!!! 02/21/99

The Tatts have been recording in Sydney, and there's a good chance they'll be
playing in Germany during June/July! According to Pete Wells, once the budget
is worked out...its a go! Check out Christie Eliezer's column for more info.

Angry Anderson will be appearing with the Angels & Ross Wilson at the Adelaide 
500 Grand Prix April 11th. Get the latest info on this at The Angels web page.
	
Don't miss the "Helping Hands" Benefit at Selinas on Thursday Feb.25, as members
of the Tatts, Cold Chisel, INXS, Noiseworks, and more perform in support 
of Warner promotions chief Steve Hands, who is battling cancer. 
Best Wishes Steve!!!


Pete Wells Band - New Album!!! 02/21/99

"It's All Fun & Games...Till Somebody Gets Hurt"  is the title of Pete Wells 
Band latest album. Mick Cocks, is also featured on this release, which 
contains 19 tracks of bluesy, ballsy, boogie. A great place to buy this disc is 
Greg's Music World.

In more Pete Wells news, the Pete Wells Band will be playing the Melbourne 
and Sydney shows of the soon to be announced Black Crowes tour in May.

Wollongong Storm Aid Set List!!! 02/21/99

As was mentioned in a previous news note, Wollongong Stom Aid of last 
November saw a massive Party Boys set featuring Angry & Rob Riley 
along with Kevin Borich,  Paul Christie & Richard Harvey. Here, at last, 
is the set list from that gig:

		Bad Boy For Love
		Rock And Roll Outlaw
		Scarred For Life
		We Can't Be Beaten	
		Brown Sugar
		Jumpin' Jack Flash
		Hell Ain't A Bad Place To Be

Angry on tour w/The Giants!!! 02/01/99

Angry Anderson will be on tour in February with Australia's hard rockin' 
Giants. For specific dates, check out the Giants web page.
 

Rose Tattoo Rarities For Sale!!! 02/01/99

Steve Danno-Lorkin who  contributed the Angry Anderson & Peter Wells interviews
is having a Record and Cd garage sale including a stack of rare Rose Tattoo, 
AC/DC and related items...contact him  for a copy of his sale list.

New Years Eve with Pete & Mick!!! 01/04/99

What better way to ring in the New Year than with a Pete Wells/Mick Cocks gig 
in Sydney? (Well, a full fledged Tatts gig maybe...) The Pete Wells band, with
fellow Tatt Mick Cocks on guitar invaded Annandale's Empire Hotel on New Years
Eve. Reports are that the show "freakin' well rocked"!! One of the highlights 
was X lead throat Steve Lucas joining the band on stage for a screamin' version 
of "Goin' Down". Happy New Year! Oh...and any reports on the Angry Anderson
& the Angels New Years Eve gig in Perth are welcome. Send me mail

---
© 1997-2007 by Peter Gormley

"REMEDY - The Rose Tattoo Home Page" and its contents may not be reproduced, uploaded, posted, transmitted or distributed in any form, or by any means, without prior written consent of Peter Gormley.