---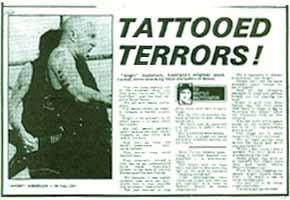 New Years Eve, Angry In The News!!! 12/25/98

Looks like 2 Tatts will be out and about on New Years eve. Peter Wells is 
rumoured to be playing a rare show at the Empire Hotel, Annandale, Sydney. 
And Angry Anderson is slated to appear with the Angels in Perth. Word is 
that he will be doing 6 songs backed by The Angels as part of their set. 
It appears the songs he will be doing will be: We Can't Be Beaten, 
Bad Boy For Love, Rock 'n' Roll Outlaw, Scarred For Life, One Of The Boys 
and Nice Boys. The Screaming Jets are also on that bill.



The December 20th edition of the Sunherald had an article about 
Angry Anderson and the "Stone Ride" motorcycle tragedy, which Angry was 
unfortunately part of. The article is reprinted below without permission. 
Thanks to Michael Betts for this info.

	ANGRY FINDS CALM IN FISHING

	Angry Anderson has been reliving the horror F3 motorcycle pile up which
	illed a Gladiators biker.
	
	Hs injured right arm in a sling and broken finger splinted, the former
	front man of Rose Tattoo was sombre at his Northern Beaches home as he
	spoke about the tragedy which cast a pall over last weekend's Stone Ride
	by 20,000 bikers.
	
	The Vietnam Veterans Motorcycle Club Patron, who was a pillion passenger
	on a Harley Davidson, saw the bike of Gladiator Craig Witherspoon, 29,
	slam into a car.
	
	"He just flew through the air," Anderson said. "And all of a sudden
	there were bikes hitting over bikes."
	
	Then a riderless bike careered into his machine, sending him and rider
	Hoges crashing onto the bitumen, where they were hit several times by
	runaway bikes.
	
	Anderson said his injuries would not jeopardise his New Year's Eve
	performance with The Angels in Perth, nor an a fishing trip with his
	wife, Lou, and the family at Port Stephens.
	
	"I'll be lying on the the beach, watching everyone else swim and fish.
	Great," he said. "Or, hang on, perhaps I can use a hand line. I'm a mad
	fisherman."


Angry Injured in Motorcycle Accident!!! 12/13/98

A motorcycle accident involving 50 motorbikes and a car, unfortunately also
involved Tatts singer Angry Anderson. Angry was taking part in the 
25th Anniversary "Stone Run", a motorcyle convoy commemorating the Australian 
cult classic bike movie "Stone". Word is that Angry suffered a 
broken arm and a concussion. More info on this terrible accident, which 
resulted in one death and several injuries, can be found at ABC News Online.

Angry & Rob Riley at Wollongong!!! 11/28/98

Turns out the Party Boys gig at Wollongong Storm Aid was a Rose Tattoo
reunion of sorts, as guitarist Rockin' Rob Riley joined Angry Anderson in 
a Party Boys lineup that also included guitar legend Kevin Borich, Richard 
Harvey on drums, and of course PB's founder Paul Christie on bass. The last 
time Angry and Rockin' Rob were together was in the "Angry Anderson Band", 
which toured to support Angry's early 90's solo album "Blood From Stone". 
Prior to that, of course, they were together during Rockin' Rob's Tatts stint,
which yielded the classic "Scarred For Life" album, along with several years
worth of memorable live performances. It should also be pointed out that both
Angry and Rob are Party Boys veterans, although they never were in the band at
the same time until Storm Aid. The set list reportedly consisted of many Tatts
songs, along with Kevin Borich providing some classic blues. The set closer
was, appropriately enough, the Tatts "We Can't Be Beaten". Word is that
Storm Aid raised $750,000 for the flood relief effort. 

Angry pitches in at Wollongong!!! 11/22/98

Angry Anderson, pitched in at the three day "Storm Aid" festival held in
Wollongong, Australia's 7th largest city, which was devastated by storms and 
floods earlier this year. The festival was held to raise money for folks 
whose insurance companies deserted them in their time of need. Among the
many bands that contributed their time to the festival was the Angels, and 
the Party Boys with Angry on lead throat. So far I have only incomplete reports 
from the show.  "We Can't Be Beaten" was the set closer...but I have no info
as of yet on the rest of the set or on any other details. Any additional info
is welcome, feel free to contact me if you have any.

Rose Tattoo German Tour - A HOAX!!! 10/27/98

Rumours of a Rose Tattoo tour of Germany are NOT TRUE!  Apparently, 
ads have been taken out in a German rock magazine announcing Tatts 
tour dates. Problem is, mate, that the Tatts and their management...
HAVE NOTHING TO DO WITH THIS!  ITS A HOAX!!! Tatts management is in the 
process of tracking down the source of the ads, and don't be surprised 
if the perpetrators receive some "Assault & Battery" for their misdeed.
In the meantime, don't go spendin' yer hard earned marks on Rose Tattoo 
concert tickets in Germany - THERE IS NO TOUR!
Tatts Report from Fairfield! 08/17/98
Here's my report on the Tatts show in Fairfield:





Rose Tattoo at the Fairfield R.S.L.  8.5.98  with the Angels

As Sydney endured it's worst storms in years, a storm of another sort 
blew into the Fairfield R.S.L. on Friday night, the "All Hell Breaks Loose!!" 
Tour, featuring the Angels and Rose Tattoo.  The reunited Tatts added another 
chapter to their legend, as they mercilessly ripped their way through an hour's 
worth of brain buzzing rock and roll. 

This Tatts lineup features 4/5 of the original band - Angry Anderson, 
Peter Wells, Mick Cocks and Ian Rilen, - with former Scattered Aces drummer 
Paul De Marco filling in (as he did in 1993) for the late Dallas "Digger" Royal.

The band was charged from the start, opening with the classic 1-2 punch of 
"Out Of This Place" and "Bad Boy For Love".  Lead throat Angry Anderson sounded 
better than ever, as his dead on vocals tore through the wall of noise. 
"Assault & Battery" and "Tramp" followed in rapid succession, and at this point 
it was clear that the Tatts meant business.

Peter Wells was in command at stage left, equal parts cigarette smoke and 
attitude, generating slide work so sharp that you'd swear he was wielding a 
knife. Mick Cocks and Ian Rilen pumped out the rhythm from stage right. At 
times Mick's hand was a blur, while Ian prowled the stage like the original 
bad boy he is. Combined with Paul De Marco driving the beat in the 
"engine room", it was clear that the Tatts were back.

The celebratory "Rock and Roll Is King" provided somewhat of a breather, but 
that soon ended when Mick lashed out the opening chords of "Remedy". Angry 
sang like his life was on the line, and the band was right there with him. 
Yes, the Remedy is indeed Rock and Roll, and the Tatts were providing megadoses. 

"The Butcher & Fast Eddy" followed, a cautionary blues tale highlighted by 
Mick's extended guitar solo. "Rock and Roll Outlaw" led into "One Of The Boys", 
and then Peter Wells familiar chiming slide intro of "Astra Wally" as the Tatts 
once again moved into the fast lane. Angry looked like a man with 20,000 volts 
running though his body as he spat out the story of that "real cool cat", while 
the 3 headed rhythm section of Mick, Ian and Paul drove the song at an 
unforgiving pace.

An extended version of the classic "Nice Boys" topped off the set, as the 
punters provided background vocals while Angry tapped into the ghost of Elvis 
for inspiration. It was a stirring climax to an unforgettable evening, as 
Rose Tattoo demonstrated in whiplash fashion that they weren't "Nice Boys"...and 
they do play "Rock'n'Roll". The King was most certainly smiling down on them.



- Peter
Tatts Single Available!!! 7/27/98

The new-old Rose Tattoo single "All Hell Broke Loose"
is now available! It is part of a repackaged version of the "Nice Boys Don't 
Play Rock'n'Roll" cd compilation. The cd-single is included in this new package.




The word is that this song is a real rocker! A "raw and snarly wall of sound"
according to Tatts fan Mark McGrath! The song was co-written by John Paul
Young, Warren Morgan and Angry. More info on the origins and history of
 "All Hell Broke Loose" as they become available.

Tatts Report from Devonport! 7/08/98

Here's a report on the Tatts show in Devonport, courtesy of Michael Eagling:



The TATTS re-forming?  BULLSHIT!  Playing in Tasmania ? (that's the little
island State of Australia, particularly famous for the Warner Brothers
cartoon character 'Tazmanian Devil')  Time to book into the looney bin!
Yes, it's hard to believe the mighty TATTS were back and touring with the
other legends of Aussie rock, THE ANGELS.  When I saw the ad on TV that they
were touring Tassie, I was in a state of disbelief, but on Sunday July 5th,
they were to play in Devonport, some 30 minute drive from home.

I've been a TATTS fan since 1978, and have collected a lot of their
releases, as well as the individual band member stuff, but Tasmania is a
back water and we miss out on a lot of tours so I've never seen the
'original' TATTS perform.  Thankfully THE ANGELS have been a big supporter
of Tassie fans over the years and have been regulars here.

I brought my ticket the day they went on sale and waited wondering
whether the TATTS would live up to their 'legend' status after so many years!  
But I had no need to worry!!!!

Finally the day came, and to get into the mood quite a few coldies (beers)
were in order, plus some loud TATTS on the HIFI were the go.  The show was
an early one, so about 6.45 I hit the venue with a few mates.  I really
wanted to get the TATTS autographs and I took along their first album plus
the first 3 BUFFALO albums which Pete Wells was a member of. The venue was
'The Warehouse' which holds about 400 people.

The local support band, with a fine female singer, kicked off at 7.00pm and
for some strange reason played alot of AC/DC covers (why I can't understand,
ha ha ha!!!!).

A couple of beers later, the mighty TATTS hit the stage and as soon as the
opening bars of "Out Of This Place" started, you got the feeling that they
meant business!  They were LOUD, MEAN & tight!  The boys ripped through
about a 60 minute set with an arrogance that verified the TATTS legend, they
were brilliant!

The set included -
Out Of This Place, Rock'N'Roll Outlaw, Nice Boys, The Butcher & Fast Eddie,
One Of The Boys, Remedy, Bad Boy For Love, Tramp, Astra Wally, Assault &	
Battery, Suicide City, & Going Down. (not 100% accurate due to alcohol
intake!!!!!)  My personal favourites were Remedy & Astra Wally, they
kicked fuckin arse!!!!!!

Angry strutted the stage with pure arrogance, with Pete Wells (Aussie guitar
hero) his usual laid back self filling the stage with cigarette smoke as he
puffed away while delivering the the slide sound that identifies the TATTS.
Mick Cocks laid down a blistering rhythm, Ian Rilen looked positively evil
while enjoying himself laying down a very solid bass & Paul DeMarco (acca
Fred Zeppelin) provided the back beat of a very solid rhythm section.

I had a great night and managed to get back stage for a few minutes to meet
Pete Wells thanx to John Baxter, Pete's old mate from BUFFALO ( early Aussie
legendary band!).  I got the first TATTS album fully autographed  
which I was totally stoked about. Pete Wells also signed the BUFFALO 
albums I took, man that was a buzz as I love that band.

Thanx to the TATTS for coming to Tassie and giving rock fans here the
oportunity of seeing one of Australia's true rock legends perform (alongside
AC/DC, ANGELS, BUFFALO, COLOURED BALLS, BAND OF LIGHT!!).  You never let
yourselves down & only reaffirmed your legendary status in Aussie
Rock'N'Roll, we'd love to see you back again!  Also thanx for the loss of
hearing for the following 2 days, it was worth it!!!!!!

ROCK'N'ROLL IS KING



Thank you for that excellent report, Michael.
Rose Tattoo on the Footy show! 7/08/98

The Tatts made an appearance on "The Footy Show", here's a
report from Steve Danno-Lorkin:




On the 2nd of July 1998,a rare moment in rock and roll occurred,
Rose Tattoo appeared in front of an audience almost as ugly as the 
band themselves, the occasion being a nationally televised Rugby 
League talk show called The Footy Show in which various football 
authorities discuss the weeks events, mixed in with boofy footyheads 
dressed in drag performing their vision of comedy.

The Tatts decision to appear on this program was a stroke of genius 
in that in gets them in front of a shit load of people. Footy Show 
host, a former Rugby League great who calls himself Fatty, introduced
the band as "one of the greatest rock and roll bands in the world",
and there they were.

Mick Cocks opening chords set the scene for Rock And Roll Outlaw
the sound is fat and pumping, it seems the days of shitty sounding
T.V appearances for bands is well and truly over. Peter Wells slide is 
so sharp you could cut a steak with it. And Angry...the face most 
Australians know as the man from The Midday show, is in incredible voice.
Most singers lose a lot of vocal range and spirit in their voice as they
get older (Mick Jagger springs to mind) but Angry is flying, sounding as 
tough as ever.

And back on bass, original Tatts bass player Ian Rilen, the man who wrote 
Bad Boy For Love, Snow Queen and Astra Wally, before leaving the band in 
1977 to go punk rock with X, has returned to the band he helped form. Not 
only has this chap got the best collection of pants in Sydney but he's 
still got that beaten up Fender Telecaster bass he's been using for 20 
years. Rilen may not be as tight as Geordie Leach (who couldn't perform 
on this tour due to work commitments) but he more then makes up for it 
with power and attitude. And of course not forgetting Paul Demarco who 
fits into the Tatts brilliantly, realistically nobody could fill Dallas 
"Digger" Royal's shoes other then Paul.

Unfortunately the band only got to do one song, but I'm sure that one 
song helped sell tickets for their tour with The Angels which is due to 
hit Sydney during the start of August. Word from RPM Management is that 
the shows are pretty close to selling out so Tatts fans get in now at 
all costs!


Tatts Rock the Bridge for Chris Turner! 6/23/98

The newly reunited Rose Tattoo performed in a benefit concert for former Tatts 
member Chris Turner last night at the Bridge Hotel in Sydney. Here's a report 
from Steve Danno-Lorkin:



Tatts were incredible. They kicked off with Bad Boy for love. The 
6 song set also included Nice Boys, One of the Boys, Going Down 
(the Don Nix song as covered by Lobby Lloyds Colored Balls and Jeff 
Beck) Astra Wally and Rock and Roll Outlaw. I did a tape of the set
and took a bunch of photos. I believe over 12,000 dollars was raised for 
Chris Turner .


Great report Steve! Hopefully Chris Turner is on the road to recovery...GET WELL SOON CHRIS!
More Tour News! 6/22/98

Many dates have been officially announced for the Rose Tattoo reunion tour. 
These are all available at the  Angels Home Page. Also, Tatts fan Earl White 
reports that  Triple M in Sydney is running a promotion where the prize
is a Rose Tattoo gig at your workplace! 
Rose Tattoo reunion! Tour!! New Single!!! 6/03/98

Rose Tattoo have reunited, and will be touring with the Angels through July 
and August! The Rose Tattoo lineup is:



Angry Anderson - Throat

Peter Wells - Slide

Mick Cocks - Guitar

Ian Rilen - Bass

Paul De Marco - Drums




There have been no official dates announced, but the tentative schedule 
for the "All Hell's Going To Break Loose" tour is:



Tasmania - July 3rd to 5th

Melbourne - July 7th to 12th

Perth - July 14th to 17th

Adelaide - July 18th to 19th

Far North QLD - July 27th to 31st

Brisbane - August 1st to 2nd

Sydney - August 4th to 14th



Official dates will be released as soon as they are locked in. These
dates are subject to change. Check the  Angels Home Page for the latest
info on the tour!




IN MORE GREAT NEWS...there will be a single released 
by Alberts to celebrate the tour! "All Hell Broke Loose" was recorded but 
never released during the original Rose Tattoo recording sessions. It's 
expected that the single will be available by the end of June...the sooner 
the better!!!







Tatts to Reunite for Benefit Concert? 5/18/98

Rumour has it that Rose Tattoo may reunite soon for a one-off
benefit concert. The concert would be in support of former  
Tatt and Buffalo member Chris Turner, who recently underwent open 
heart surgery.  More info as it becomes available...and Chris Turner,
GET WELL SOON!

Rose Tattoo Reunion? 4/07/98

There have been rumours of a Rose Tattoo reunion, potentially touring 
with the Angels...well...here's the official word from Rose Tattoo 
management!!!




RPM Management Statement On Potential Rose Tattoo Reunion

Angry wants to go back to recording and performing after his long break
working on charities.  It was The Angels that put Angry back on stage in
1997 with the Lounge Lizards Tour and this has turned Angry's head back
towards music.  Angry has been on the phone to other ex-band members
talking about reforming and although the mood is good the practicalities
may prevent a reunion.  Primarily, as all ex-bandmembers have their own
solo projects, time is a problem.  The simple solution would be to go on
the road on a mega double bill with an existing band and limit the gigs to
major cities.  RPM Management is currently discussing such an event with
suitable Australian bands, Angry has his heart set on The Angels.  It's
really up to them!

---
© 1997-2007 by Peter Gormley

"REMEDY - The Rose Tattoo Home Page" and its contents may not be reproduced, uploaded, posted, transmitted or distributed in any form, or by any means, without prior written consent of Peter Gormley.