---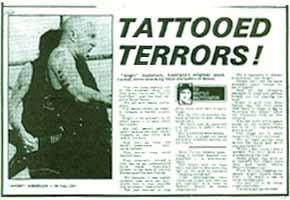 "Rose Tattoo" voted one of the 100 best Australian albums! 10/10/97

Tabulating a combination of reader's and critic's votes, Australian
Rolling Stone recently published a list of the top 100 Australian
albums of all time. Rose Tattoo's eponymous debut made the list, as well
as "Aspirations", the debut album by X - the band Ian Rilen formed
after leaving Rose Tattoo. Rolling Stone does not have this list
available online, so without their permission I am reprinting both
reviews here. Hopefully they won't mind...



ROSE TATTOO - Rose Tattoo
Albert 1978

When Melbourne Meat Carnival Buster Brown split, Phil Rudd took his
sticks and joined AC/DC and Gary "Angry" Anderson hooked up with
Buffalo's Peter Wells to form Rose Tattoo. By the time of this, their
slashing debut, they were the most fearsome band in the country and,
in the wake of AC/DC's departure for the UK, the strong arm of the
all-powerful Albert Records. "Angry Ant" Anderson, a bald, broken
toothed dwarf with lungs like ballasts and a hero status among bikers
and razor gangs, led the band through a searing set of tracks that are
now as indelible as the patterned ink that adorned every band member.
Broken-bottle ballads ("Butcher & Fast Eddy"), thrashy odes to junkie
girlfriends ("Nice Boys" - later covered by Guns 'n' Roses), and
battle crys eulogising jailhouse martyrs ("Bad Boy For Love") all
combined to establish Rose Tattoo as Australia's most notorious
rock & roll outlaws and the benchmark for any thrash or punk band
that came after.

- Angus Fontaine


X - Aspirations
X-Music 1980

It was said of X that more than any other band, the music played them
rather than they played the music. In 1977, Ian Rilen, X's snarling
bass player, walked out on Rose Tattoo. He recruited man-mountain
Steve Lucas and, in the wake of the post-Birdman push, gave birth
to one of the most powerful bands witnessed on the Sydney scene. X
belonged to no one. Not punk. Not rock. They were louder and badder
than both. Although X were always a live experience, X-Aspirations
captured more of their unfathomable muscle than any of their records.
Witness Lucas' bellows on "Mother", buckle beneath the sheer weight
of Rilen's bass on "I Don't Wanna Go Out, take a chain-whipping over
the white-hot violence of "Delinquent Cars". Be afraid.



- Angus Fontaine
Album of acoustic tour is being considered! 6/13/97
From In Music & Media...



MORE ROCK VETERANS RETURN

The last few years, the New Breed of Oz Rockers (silverchair, 
Powderfinger, Savage Garden etc) has seen the focus shift from the 
old guard. They have found difficulty getting radio airplay, despite 
the fact Kate Ceberano, Tommy Emmanuel and Renee Geyer made some of 
their best records. Sydney 'Sun-Herald' pop columnist Brett Thomas 
reports that Chisel's reunion coincides with the return of other 
pub-rockers from the '80s. Mondo Rock's Ross Wilson, Rose Tattoo's 
Angry Anderson and The Angels' Doc Neeson recently completed a 
28-date acoustic tour which went down so well that an album is being 
considered. Meantime, a bill called 'The Boys Are Back In Town' play 
two shows in Sydney next month featuring acts from that era -- 
including the Radiators and Choirboys who never broke up, Spy V Spy, 
Matt Finish, Cockroaches, Avion, Outline and Mandrake.

Angry Anderson tours with the Angels! 5/31/97
Angry Anderson is currently on an acoustic tour with the
Angels! Check here for more info...

---
© 1997-2007 by Peter Gormley

"REMEDY - The Rose Tattoo Home Page" and its contents may not be reproduced, uploaded, posted, transmitted or distributed in any form, or by any means, without prior written consent of Peter Gormley.