---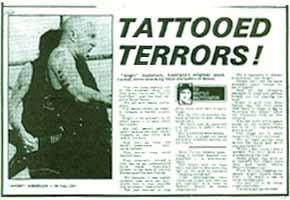 New Years Eve w/the Pete Wells Band 12/25/01

See the Pete Wells Band on the Sydney Blues Stage at the Empire Hotel, Annandale,
this New Years Eve:

	
	Kick in 2002 with Pete Wells and his Damn Fine Band til the early hours at 
	the Empire. If you've been here before you know how the place gets rockin' 
	and if its the first time be prepared for some hard rockin and stompin to 
	ring in the new year.
	


Tatts In The Studio 2002 12/25/01


The Tatts are scheduled to be in the studio, in Germany, early February 2002. No further info on the
new Tatts long player is available...


New Pete Wells Album 12/16/01



A new Pete Wells solo album is coming this January. It's a true solo 
effort as Pete is playing ALL the instruments! For complete Pete Wells 
info check out the Official PW site.


Heaven CD Reissue 12/16/01



The first Heaven album, known as "Twilight of Mischief" in Australia, and "Bent" in the US,
been reissued on CD. It is available on the US label Heatsink Records. Mick Cocks joined
heaven after this album was recorded and was a big part of the followup album "Where Angels
Fear To Tread". Hopefully that one is coming on CD as well. "Bent" hasn't shown up in any
major online retailers (CDNow, etc.) but several are available for auction on Ebay at very
reasonable prices. CD catalog number is available on the Heaven Discography page.


X Live CD Released 11/29/01



A classic live X recording from 1979 is available on cd for the first time.
This recording, originally a live radio broadcast, also contains two demo
tracks featuring the late X guitar great Ian Krahe. More info on this disc
can be found on the X Discography page.

This cd, as well as the new Damn Fine Band cd, is now available online at
Whammo...highly recommended for their quick service (overseas included)
and excellent prices.


Damn Fine Band CD Purchase Info 10/25/01



Purchase info for the Damn Fine Band cd is available on the
Purchase page...FYI the cd kicks ass from start to finish...
59:07 of pure rock-n-roll...


Damn Fine Band CD Info 10/02/01


Check out the Discography page for cover
image and tracks of the Pete Wells / Angry Anderson 
& the Damn Fine Band CD! Purchase info coming soon...


Damn Fine Band CD Launch 10/01/01


Report from Annandale is that the Damn Fine Band
CD launch was a big hit! The turnout was great...
the band did their usual smokin' set...and the
Chris Turner Band were an excellent support
act. The CD itself is a "live in the studio"
format...more details as soon as I get a copy!


Tatts In The Studio 09/27/01


The Tatts spent three days in the studio laying down tracks for 
the upcoming new album. According to Pete Wells, there are 20 
tracks...and Angry is now working on lyrics. All songs will
be new!


Damn Fine Band CD Launch 09/27/01


The Damn Fine Band CD launch occurs this Friday at the Empire 
Hotel in Annandale! Should be a great time with Pete, Angry &
The Damn Fine Band. Check out the 5/23/01 news note for a typical
DFB setlist...Rock On!


Tatts Confirm New Album 09/05/01


Pete Wells has confirmed that Rose Tattoo will be recording a new
album, slated for release in 2002! The album will feature the current
Tatts lineup of Pete, Angry, Rob Riley, Paul Demarco and Steve King.
In other news...the Tatts will be returning to Europe for more shows 
in 2002!


Memorial Service for Ted Mulry 09/05/01



A public memorial service will be held for Ted Mulry in Sydney on Monday,
September 10th. The Australian rock great passed away over the weekend
due to complications from cancer. The service will occur at St. Andrew's
Cathedral, George Street in Sydney, commencing at 10 am. A private service
for Ted's family will follow later in the day. St. Andrews is adjacent to
Sydney Town Hall, so it is is easy to reach by public transport. All are 
welcome to attend and pay their respects to Ted.


  



The Ted Mulry Gang began in 1972 and had many national hits including "Jump
In My Car", "Dark Town Strutters Ball", "Jamaica Rum"...Ted also had the 
classic solo hits "Julia" and "Falling In Love Again". Ted's last public 
appearance was stageside at the "Gimme Ted" benefit, which the Tatts 
participated in, along with many other Australian bands. 



New Studio Album? 08/28/01


No details yet...but it looks like a new Rose Tattoo studio album is 
in the works...stay tuned...


Angry's Jacket 08/28/01





Herko reports that the Tatts shows in Düsseldorf and Offenbach
were a success, although he called the second show "Hell On Earth" 
as the stage temperature approached 55ºC. Unfortunately Angry 
lost his jeans jacket (as pictured above) during the show and 
nobody could find it. He's owned the jacket for 20 years and has 
a lot of personal memories with it...so if you found it (or crapped 
it) at the show in Offenbach...send an email to Herko, as Angry 
promises a very personal fan packet for the honest finder!



On The Road With The Tatts 08/22/01





Herko has put together a tour story chronicling the UK/Europe 
tour...check it out at his Tatts tour site 


Tatts Head Back To Europe 08/01/01



The Tatts are back to Europe this month for several shows in 
Germany & France. There are also new dates in Australia for
Pete, Angry & the Damn Fine Band. All of these dates can be
found on the Live page...


Amazing New Tatts Photo Galleries 07/16/01


There are two new online photo galleries devoted to the Tatts recent
UK/European tour! Some great photos from the J.B.'s Dudley gig can be
found here...and for a gallery of photos from the entire tour, check 
out this amazing site...


More European Shows Planned 07/09/01


The Tatts have just completed a highly successful tour of Europe,
and according to Pete Wells the band is overwhelmed by the response
which has been far and above what they expected. Now...word is that
The Tatts will be back next month! The first confirmed show is a
Bike Festival in France on August 18th...and there are more shows to come!


Pete, Angry & the Damn Fine Band 07/09/01


Tentative release date for the live cd from Pete, Angry & the Damn 
Fine Band is August...with the band undertaking mor gigs later in
the year.


Tatts UK News 06/05/01


Thanks to Michael Eagling for this info:


	Rave reviews are being received from the gigs in the UK 
	both from fans and the media alike. The world's heavy metal 
	bible, KERRANG! reviewed the London show and gave the Tatts 
	a mighty five KKKKK rating. Pete Wells reports that things 
	are going great, the fans, the shows. Pete's also very happy 
	with his Marshall stacks, the sound is fuckin HUGE!!!! 

	Another thing to put a smile on Pete's face was a case of 
	Jack Daniels being delivered to the band courtesy of Axle Rose. 
	
	"Thanks Axle", THE TATTS.

	One disappointment was the forced cancellation of last nights 
	Nottingham show (June 4) due to a major problem with the PA. 

	More news in the next few days.




"25 To Life" Link 06/05/01


Here's an online review of "25 To Life"...

	"25 To Life" Review




Lobby Loyde in Melbourne 05/25/01


Michael Eagling reports that guitar legend Lobby Loyde will be playing 
at Melbourne's Esplanade Hotel on June 2nd. According to the Herald-Sun 
newspaper, Lobby is slated to play Coloured Balls & solo material! 


Tatts Sydney Report 05/23/01


Here's a Sydney Report from Michael Eagling of the Pete Wells Official Site:


	Thursday night the Tatts line up of Wells/Anderson/King 
	(acca The Undertaker!!)/DeMarco & Riley hit the stage to a 
	full house of 400 fans at their local pub, the Annadale Hotel. 
	The set list for the 3 gigs was (going from a hazy memory, I 
	did get a list from the gig but lost it somewhere)-

		Out Of This Place 
		Bad Boy 
		One Of The Boys 
		Assault & Battery 
		Tramp 
		The Butcher 
		Rock 'N' Roll Is King 
		Remedy 
		Astra Wally 
		Scarred For Life 
		Manzil Madness 
		Outlaw 
		We Can't Be Beaten 
		Nice Boys 
		Suicide City (played at Annandale only)

	The crowd loved it & went right off moshing in the front. The 
	sound wasn't all that great (very loud though as you'd expect) 
	but didn't impress Angry & Rob had a few technical problems. At 
	the end Wellsy threw his t-shirt into the crowd walking off the 
	stage to the sound of ear shattering feedback.

	The next night at Woy Woy was great, a lot better sound which
	thumped plus the band were noticably tighter having benefited 
	from blowing the cobwebs out the previous night. The real disappointing 
	thing was that there was no-one there, about 125 from what I heard. 
	I was told that this gig wasn't advertised all that well which 
	hopefully explains the lack of bodies.

	The Eastwood gig was packed and the band were great. Overall the 
	band enjoyed themselves on stage and benefited from the warm up 
	gigs before the UK/European tour. Overseas fans can expect to see 
	a loud an agressive Rose Tattoo playing, as Pete Wells said "the 
	same old shit", which we love and hope to hear more of!!!!
	
	All the best overseas!!





Tatts Sydney Warmup Shows 05/20/01


I've received stellar reports on the three Tatts Sydney warmup shows. It
appears that our favorite rock'n'roll outlaws are locked and loaded for
the big UK/Europe tour. Coming soon...pictures from Woy Woy!



Pete, Angry & the Damn Fine Band 05/20/01


We can all look forward to a live cd release of "Angry Anderson, Pete Wells 
& the Damn Fine Band", recorded in Australia during this past tour. These were
killer shows, featuring a setlist of rock'n'roll classics. Check out the 3/18
news entry below for information on a typical setlist. No word yet on release
date... 


"25 To Life" Giveaway 05/10/01


So...you've worn out your copy of "25 To Life" due to relentless playing...and ya 
need another one to replace it? Check out the competition at HeavyMetalUK for a 
chance to win...


Tatts in Classic Rock Magazine 05/10/01


The current issue of the UK magazine "Classic Rock" features an interview with Pete & Angry 
done in London earlier this year. Its 4 pages with lotsa great photos (Reading '81 among
them). Thanks to Ferg for this info...

"Rock 'N' Roll Outlaws" UK Gig 05/02/01


The "Rock 'N' Roll Outlaws" will be playing at the Army & Navy in Chelmsford on 
Tuesday, May 29th. Check out the Army & Navy for more info!


UK Venue Change & Australia Info 04/20/01


One of the UK dates has had a venue change...also the middle of three Australia dates
now has a venue as well...details on the Live page...


Additional European and New Australian Dates 03/30/01


There have been some changes to the European leg of the Tatts tour, with
some dates changed and several more added! Also...three warmup dates in
Sydney have been announced! All the info is available on the Live page...


Glasgow Show On Sale 03/18/01


Tickets are now on sale for The Tatts in Glasgow...appearing June 6th
at The Cathouse!!! In other tour news, some Tatts Sydney gigs 
are being organized...these shows would take place before the 
UK/Europe tour.More info as it becomes available...


Setlist for Angry & Pete 03/18/01


Steve in Sydney has provided us with the "Angry Anderson, Pete 
Wells & the Damn Fine Band" setlist from the Balmain show...thanks
Steve!!!


	It's All Over Now (Stones, Bobby Womack & sometimes the Tatts) 
	Stay With Me (Rod Stewart & the Faces) 
	Baby Please Don't Go (Muddy Waters, Bill Broonzy...later by AC/DC) 
	Bring It On Home (Led Zeppelin...an old blues standard) 
	Money (Motown standard and early Tatts) 
	Hoochie Coohie Man (Muddy Waters and early Tatts) 
	Going Down (Don Nix, Freddie King, Lobby Loyde + Tatts) 
	Stand By Me (Ben E. King, covered by John Lennon) 
	What'd I Say (Ray Charles)
	Rock Me Baby (Muddy Waters, B.B. King) 
	Sweet Little Rock And Roller (Chuck Berry, Rod Stewart & the Faces) 
	Whole Lotta Shakin (Jerry Lee Lewis & early Tatts) 
	I Just Want To Make Love To You (Muddy Waters, covered by Foghat) 
	Rock 'n' Roll Outlaw (Tatts)



Ted Mulry Benefit A Big Success 03/13/01


The Tatts played a 4 song set at the Ted Mulry benefit...Geordie Leach played bass
for the first two songs - "Rock 'N' Roll Outlaw" and "Nice Boys"...with Steve King
taking over on "Bad Boy For Love" and "We Can't Be Beaten". It was a great night
all around!!! Thanks to Michael Eagling for this info...



PWB / Angry Pics From Ulverstone TAS 03/06/01


Here's some front row shots from the PWB / Angry gig at River Arms Hotel,
Ulverstone, TAS. Thanks go to Michael Eagling : 



Website for Ted Mulry Benefit 03/06/01

There is now a web site where you can send best wishes and 
make donations for Ted Mulry. It's at GimmeTed.com ...drop 
in and say hi...



Angry Plants a Rose 03/06/01


Angry Anderson is the guest of honour at: 

	   The Planting Of The Hope Rose   

	This event is presented by the Australian AIDS Fund Incorporated and the 
	AIDS Actions Council of the ACT. 

	The Hope Rose will be planted by guest of honour Mr. Angry Anderson AM.

	The rose is a symbol of hope for people living with HIV/AIDS...the 
	event takes place Friday, March 9th at 2pm...The Memorial Gardens, 
	AIDS Action Council of the ACT, Gordon Street, Acton. 

	Light Refreshments will be available after the planting. For more 
	information you can contact the Aids Action Council of the ACT...6257 2855.



Ted Mulry Benefit Concert 02/25/01


The Tatts will be taking part in a benefit concert for Australian 
Rocker Ted Mulry, who has fallen gravely ill...here is all the info:



	 GIMME TED...A Benefit for Ted Mulry...
		 
	 On Friday 9th and Saturday 10th of March, the cream of 70's Australian 
	 Rock scene, will gather at City Live Night Club at Sydney's Fox Studio's, 
	 to perform a benefit for their friend and contemporary TED MULRY who is 
	 seriously ill. 

	 FRIDAY 9th: John Paul Young, Billy Thorpe, Richard Clapton, Ross
	 Wilson, Russell Morris, Gina Jeffreys with members of the Angels, 
	 INXS, Tim Freedman (The Whitlams). 

	 SATURDAY 10th: Sherbet (who are reforming for the event), 
	 Rose Tattoo, Autumn (also reforming), the Radiators, 
	 Mental As Anything, Noiseworks, Adam Brand. 
	 
	 Special MC's will be Molly Meldrum, Donnie Sutherland and Glenn A. Baker.
	 AC/DC have donated a signed signature guitar to be auctioned. 
	 A Brisbane radio station is auctioning a trip to Sydney to raise money 
	 and every indication is that this will become a national event. 

	 Ted took ill prior to a tour of Victoria in July 2000. The Doctors 
	 discovered a disease that connects to a tumor of the Aprennal gland. 
	 After surgery Ted fell ill again and more tests discovered a tumor on the 
	 brain more surgery was needed to remove this.

	 Ted has been having regular chemotherapy, unfortunately more cancer has 
	 been discovered and Ted keeps on fighting. 

	 A portion of money's raised will go to the late Peter Kekel's family who 
	 passed away last year. Peter was keyboard player for Swannee and Jimmy 
	 Barnes.

	 TICKETS: Tickets available from Ticketek for individual nights or 
	 a special discount for both nights. 

	 Single night $59 + booking fee (on sale NOW!!) 
	 Two nights $92.90 + booking fee (on sale NOW!!)

	 Contact Ticketek.com...or ring Ticketek on PH 02 92664800

	 For more information, contact Renee at Michael 
	 Chugg Entertainment, Ph 02 93807544...or Dianna O'Neill
	 at Dianna O'Neill Publicity Ph 02 93891178




Additional PWB Australian Dates 02/25/01


There are new dates in early March for the Pete Wells Band featuring Angry
Anderson. Check the Live page for all the details.



Pete 'n Angry Rock Balmain 02/21/01


The Pete Wells Band with special guest Angry Anderson played Unity Hall 
in Balmain...and we get a firsthand report from Alvaro:


	...just to let you know I went to Unity Hall Hotel in 
	Balmain and saw Peter and Angry again...another full 
	house of people with an age range 18-50...mostly girls...
	the band played a few Small Faces songs, AC/DC, ZZ Top, 
	Beatles, George Thorogood and few others, and finished 
	with a bang -  Rock & Roll Outlaw! Angry was wearing 
	surfie shirt and black jeans...it was like a party band....
	the band was Steve King on bass, Angry on Vocals, Peter 
	Wells  on Slide, Lucy DeSoto on Piano, Auby on Drums and 
	another Guitarist I didn't know...everywhere they have 
	played has been full houses...by the way the pic on the 
	live album does not see the real Angry... he looks so 
	old...really, in real life, nothing has changed...



UK Tour Dates Updated 02/18/01


There have been several changes to the UK Tour...check the Live
page for all the details.



UK Tour Change & Eastwood Hotel Report 02/05/01


The June 5th Tatts show at Army&Navy in Chelmsford has been cancelled.
No word on any alternative venues for that date. 

Meanwhile...The Pete Wells Band with special guest Angry Anderson has 
begun a string of dates in Australia...their first gig was February 3rd 
at Sydney's Eastwood Hotel...and according to Alvaro in Sydney it was 
an awesome show...replete with a bevy of hot looking girls and motorbikes...
the next gig is February 9th at St' John's Park...be there!


Wacken Festival Video 01/19/01


Metal Warriors plans to release a double video of Wacken highlights that
will potentially include Rose Tattoo live footage and interviews. More 
info is available at the "Latest Video News" page of their website...


X - Steve Lucas Interview at I-94 01/19/01


A fascinating interview with Steve Lucas of X can be found at the I-94 
webzine. Lots of info...including the possibility of an X tour of the 
West Coast of the USA! Check it out here...



Complete Tatts UK/European Tour Dates, PWB Australian Dates 01/10/01


Official tour dates for the UK/European tour have been released! The 
Tatts will storm through Ireland, England, France, Holland, Sweden 
Switzerland & Germany. Also, the Pete Wells Band with special guest 
Angry Anderson will be playing several shows in Australia starting 
in early February. Check the Live page for all the details.



Tatts & "25 To Life" Links 01/04/01


Lotsa stuff online about the Tatts and "25 To Life"...read on...

Check out this excerpt from Murray Engleheart's column at Metalshop:

	Rose Tattoo's tour of Europe that's scheduled for mid this year 
	has all the early signs of going through the roof... the enormous 
	demand generally in the UK has tripled the number of shows that 
	were originally scheduled. In France and Germany where the boys 
	have long enjoyed a fanatical following the story is much the same. 
	It seems they're picking up where they left off in 1981. Back 
	home Peter Wells' professional options have expanded with his 
	recent role as a spider on a kid's CD. So what the hell does a 
	spider sound like? Like Wells actually.


Various other reviews & info:

Murray's Column at Metal-Is
Virtual Cardiff
Critical Tom
Chez.com(in French)
DocRock Show(in German)
Wellbuilt(in German)



Where to find "25 To Life" 01/01/01


To those of you who have had trouble finding "25 To Life", let me recommend 
CD Cellar as a reliable source for the cd. They have it in stock and I 
received mine within a week of ordering. FYI, the cd is first rate all the
way...the packaging, artwork, sleeve notes and most of all the incredible sound
all do the Tatts proud. This is one of the greatest live rock 'n' roll albums...ever.





---


© 1997-2007 by Peter Gormley

"REMEDY - The Rose Tattoo Home Page" and its contents may not be reproduced, uploaded, posted, transmitted or distributed in any form, or by any means, without prior written consent of Peter Gormley.