Unofficial History

The 5 headed rock'n'roll beast known as Rose Tattoo came into being 1976 in Sydney, Australia. The original lineup was: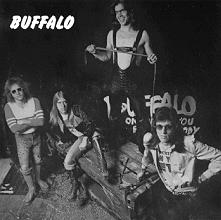 Angry Anderson: Throat
Ian Rilen: Bass guitar
Peter Wells: Slide guitar
Mick Cocks: Rhythm guitar
Dallas "Digger" Royal: Drums



The band was the vision of Peter Wells, who had most recently been playing bass in the Sydney hard rock band Buffalo. His goal was to create the meanest, loudest, most "in your face" rock band around. Angry Anderson was a veteran of the Melbourne boogie band Buster Brown (along with Phil Rudd and Geordie Leach), as was Dallas Royal. Mick Cocks was a mate of Angry's, and Ian Rilen had been playing with Band Of Light. The Tatts debuted New Years eve in Sydney at Chequers.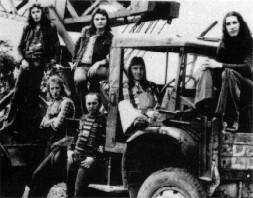 According to Mick Cocks, "In the early days, when we first started, we could only work two places, the Lifesaver and Chequers, everybody hated us."

Rose Tattoo continued to play the pubs into 1977, and became notorious as a "self styled gang of rock'n'roll outlaws, bent on mayhem and destruction." During this period they gained many fans including a certain Bon Scott, singer for AC/DC. Bon and Angus Young of AC/DC would occasionally go onstage for a blow with Rose Tattoo, and it was Bon's recommendation that got the band signed to Alberts (Walker 222). They released the single "Bad Boy For Love", which turned out to be a hit.

At the same time, Ian Rilen left the band and formed the infamous X. For a brief period, the Tatts were a four piece, with Mick Cocks playing bass. The band didn't have to look far for Rilen's replacement, recruiting Angry Anderson's old Buster Brown bandmate Geordie Leach. The new lineup: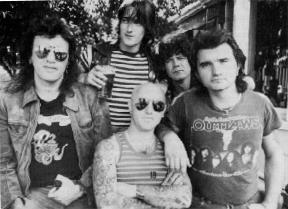 Angry Anderson: Throat
Peter Wells: Slide guitar
Mick Cocks: Rhythm guitar
Geordie Leach: Bass guitar
Dallas "Digger" Royal: Drums

The gigging continued, and they also recorded their first album. The eponymous 'Rose Tattoo' was unleashed on the Australian public in 1978. Producers Harry Vanda & George Young expertly captured the Tatts full on fury, as well as the the band's melancholy side on the bittersweet "Stuck On You". Rose Tattoo continued to tour Australia, maintaing their outlaw image by playing in several penal institutions, including the Parramatta Jail. The Rose Tattoo lineup was very unstable during this period. Mick Cocks and Geordie Leach were in and out of the band, as was New Zealand born, and Sydney based, guitarist Chris Turner...and at one point, Oz rock guitar legend Lobby Loyde was in the band, playing bass! The Tatts eventually regrouped and soldiered on.

In 1981, their second album, 'Assault & Battery', was released. It maintained the standards they set on their first album, with ten more cuts of hard nosed rock'n'roll from the "bad side of town". Vanda & Young once again manned the dials for this release.

In 1981, during the Tatt's wildly successful tour of England, Mick Cocks and the Tatts parted ways and he was replaced by Rob Riley. Riley was a veteran of "Dallimore", "Red House", and "The Beast" (w/former AC/DC Mark Evans on bass and former "Dallimore" John Lalor on drums). Rose Tattoo now consisted of: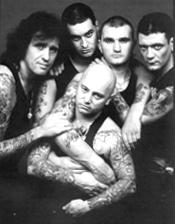 Angry Anderson: Throat
Peter Wells: Slide guitar
Rob Riley: Rhythm guitar
Geordie Leach: Bass guitar
Dallas "Digger" Royal: Drums

This latest lineup of Rose Tattoo recorded their third album, 'Scarred For Life', which was released in 1982. Like their first two releases, it was produced by Vanda & Young, and recorded at Alberts Studios in Sydney. Riley was a perfect fit for the Tatts, co-writing the album's four singles. 'Scarred For Life' continued in the tradition of driving, relentless, rock'n'roll.

More touring followed, until 1983, which marked the end of this incarnation of the Tatts. During a particularly stressful tour of America, there were some differences between band members about Rose Tattoo's direction. When all was said and done the only ones left were Anderson and bassist Geordie Leach. The rock'n'roll outlaws were no more.

Anderson and Leach recruited drummer Robert Bowron, slide player Greg Jordan, and guitarist John Meyer to fill out the new Rose Tattoo. Bowron, a certified madman, lasted only a few months with the Tatts. Apparently, he was sacked for some sort of misbehaviour. (Misbehaviour? In Rose Tattoo?? What could he have done???) Bowron's replacement was Scott Johnston, and the new Tatts lineup became: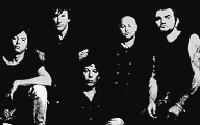 Angry Anderson: Vocals
Scott Johnston: Drums
Greg Jordan: Slide
Geordie Leach: Bass guitar
John Meyer: Guitar

This version of Rose Tattoo is a highly under-rated one. During this era Rose Tattoo delivered some of the consistently hottest live performances of their career. They roared through the Australian pub circuit, pulling in some of their largest crowds ever. As Tatts fan Mark McGrath puts it: "This didn't happen because of any hit records or hype (there was none at this stage) but through the sheer force of their relentless and savage performances."

It was in 1984 that the album 'Southern Stars' was released, their fourth at Albert Studios with Vanda & Young. While it contained some good songs, the album was held back by its production - a tamer more mainstream sound - which had litttle in common with the primal quintet that were tearing up the pubs. Unfortunately, this incarnation of Rose Tattoo didn't last very long.

During this same period, former members of Rose Tattoo joined together to form a new band, the "Illustrated Men". They played the Sydney and Melbourne pubs during 1984/1985. The band consisted of Ian Rilen, Peter Wells, Mick Cocks, Geordie Leach and Dallas Royal. Their existence was a short one, but the I-Men made a big noise in the pubs during that time, playing their own slashing style of hard rock.

By 1986, Geordie Leach was gone as well, and Angry Anderson patched together a new lineup: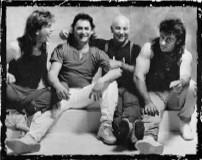 Angry Anderson: Vocals
Andy Cichon: Bass, piano, keyboards and backing vocals
Tim Gaze: Guitars
Scott Johnston: Drums


'Beats From A Single Drum' was released in 1986, and unlike the previous 'Southern Stars', this album bore no resemblance whatsoever to the raging rock'n'roll outlaws of 1977-1985. Fittingly, this album was issued as an Angry Anderson solo release in Europe.

For the next several years, Anderson & Wells kept themselves busy with solo projects. 1990 saw a reunion of sorts when Rockin' Rob Riley played guitar for Angry as he toured behind his 1990 solo album. This band also featured the Angel's Jim Hilbun on bass.

Sadly, in 1991, Dallas "Digger" Royal died of cancer.

Then, in 1993, an offer came in from Guns & Roses. The Gunners requested that Rose Tattoo reform and support them on their Australian tour. Surprisingly, the Tatts took them up on the offer. The touring band consisted of: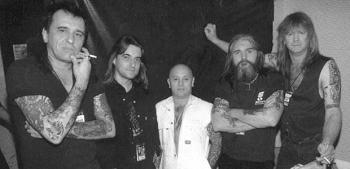 Angry Anderson: Throat
Peter Wells: Slide guitar
Mick Cocks: Rhythm guitar
Geordie Leach: Bass guitar
Paul DeMarco: Drums

The reformed Rose Tattoo were as ferocious as ever. The commercially available video 'Live At Boggo Road Jail 1993' is evidence of this.

Following the 1993 tour, the Tatts moved on to several solo endeavours. Angry Anderson made a mark for himself outside of the music industry, involving himself with youth affairs and working as a TV reporter. Peter Wells continued his solo career, collaborating with Lucy DeSoto on several solo and group efforts. Mick Cocks gigged with Wells among others, Rob Riley wrote and sporadically gigged, and Geordie Leach settled in Melbourne where he continues to run his own recording studio, and play in the blues band The Giants. Greg Jordan, a respected slide guitarist, formed the band "Hooligans", a Celtic folk-rock ensemble. And guitarist John Meyer formed "John Meyer Band" in 1996.

In 1997 Angry Anderson toured with The Angels and Ross Wilson on the "Lounge Lizards" tour, performing several of the Rose Tattoo classics in an acoustic arrangement. This experience is credited with reviving Angry's interest in music. Several phone calls were made to other ex-Tatts...and the result was a 1998 Rose Tattoo reunion. This time they hit the road with the Angels on the "All Hell Breaks Loose!!" tour. This lineup of the Tatts featured 4/5 of the original band: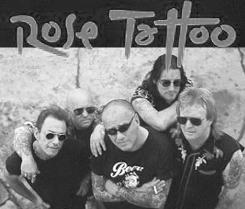 Angry Anderson: Throat
Peter Wells: Slide guitar
Mick Cocks: Rhythm guitar
Ian Rilen: Bass guitar
Paul DeMarco: Drums

The Tatts performances on this tour served to further their legend, as the performances were as brutal and unrelenting as in their heyday nearly 20 years before.

In early 1999 Rose Tattoo spent some time in the studio, producing some rough demos and looking to get their creative juices flowing again. It was then that the call came in from Germany as one of that country's most successful bands, Böhse Onkelz, asked the Tatts to co-headline several of the German summer festivals. At this point Ian Rilen had moved on to other endeavours, so Geordie Leach stepped in to fill the void. The Tatts enthusiastically agreed to the offer, and warmed up with a two week run through Oz in late June, highlighted by a show at Sydney's Metro with Ian Rilen's X .Then it was off to Germany, where Rose Tattoo showed the world that they still had "it". This was a band that could Rock AND Roll with the best of them.

In late 1999, the Tatts split with R.P.M. Management, taking on the responsibility of managing themselves. Things slowed at this point, with members moving to solo pursuits. Angry signed on to do the touring musical Godspell in early 2000...unfortunately the musical never made it out of rehearsals, due to management confusion and a lack of funding. Instead, Angry went on to gig with "The Party Boys". Paul DeMarco put together the band "Ship Of Fools" and gigged around Sydney. Pete Wells landed a recording deal with Germany's SPV Records...releasing the Pete Wells Band album "Hateball".

Then mid-year...the word came down that the Tatts would be once again appearing in Germany as the guest of Böhse Onkelz at Wacken Open Air Festival on August 5th. And on top of that...a new live album would be recorded at that gig! Plus...there was a new Tatts lineup, featuring the return of Rob Riley, and the addition of Steve King from the Pete Wells Band on bass: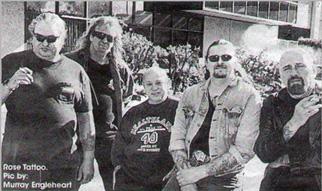 Angry Anderson: Throat
Peter Wells: Slide guitar
Rob Riley: Rhythm guitar
Steve King: Bass guitar
Paul DeMarco: Drums

W.O.A. 2000 was a momentous success for Rose Tattoo. They tore through an incredible 17 song set, leaving their European fandom screaming for more. Angry had to be carried off stage when it was all over...Suicide City indeed. The Tatts then stayed behind in Germany, mixing the new live album.

An October tour of Australia with "Motley Crue" never happened, as the Crue had to cancel...then in mid-November of 2000, "25 To Life" was released...a double live "Best Of" cd that captured the Tatts in all of their ragged glory at Wacken. Nothing fancy on this one...they rolled the tapes and what you hear is what they experienced on that summer day in Germany...the Tatts playing rock'n'roll as only they can. Also in November, original Tatts bassist Ian Rilen released a solo cd - "Love Is Murder" - in Australia. The disc featured Ian at his moody best...

It was late in 2000 that the Tatts made a stunning announcement: a U.K / European tour for 2001! The tour would start in late May, touching down in England, Scotland, France, Spain, Sweden, the Netherlands, Switzerland, Belgium & Germany! Initial ticket sales were "brisk"...to say the least. The Tatts also got together in March 2001...playing at the "Gimme Ted" benefit in Sydney for rocker Ted Mulry, who had fallen gravely ill. Along with the current lineup, Geordie Leach chipped in as well, handling bass duties for a few songs. The benefit was a great success, as the Tatts along with the cream of Australia's 70's rock scene raised some much needed funds to aid Ted in his health battles.

During February, March & April, Angry Anderson got together with Pete Wells, Steve "Auby" Auburn, Steve King and Lucy DeSoto to play several dates around eastern Australia. Billed as "Angry Anderson, Pete Wells and the Damn Fine Band"...they played a kick-ass set of rock'n'roll classics, and a good time was had by all. The shows were so impressive that a live cd release was announced in May.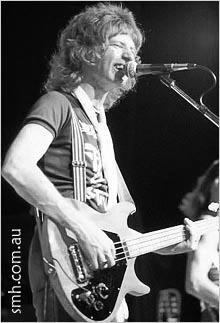 Then, thoughts turned to the big tour: Rose Tattoo - UK / Europe 2001. The Tatts prepared with three killer warm up gigs mid May in Sydney. Then it was off to Europe, where the Tatts received rave reviews starting in the U.K., and all the way across the continent. The heavy metal magazine KERRANG! reviewed the London show and gave the Tatts a top rating of KKKKK!!! The band was overwhelmed with the response...

Following the tour, rumours began circulating that the Tatts would be recording a new studio album! This was confirmed by Pete Wells in September...a new Tatts studio album was coming in 2002! The lineup would be Anderson/Wells/Riley/DeMarco/King. That same month the "Damn Fine Band" cd, a live in the studio affair, was released to rave reviews. The disc contained nearly an hour of the DFB rocking through several blues and R&B classics.

Unfortunately it was not all good news in September...Ted Mulry passed away on September 10th, due to complications from cancer. Ted was a "one of a kind" character and a great talent...the good time boogie sound of the Ted Mulry Gang never failed to put a smile on your face and a tap in your foot. Ted will be sorely missed.

The Tatts eventually made their way into the studio, laying down preliminary tracks for the new album, and scheduling more studio time for early 2002. In the meantime, Pete Wells was busy on his own, recording an album of solo material, appropriately titled "Solo". The disc, released in Jauary 2002, was a lowdown acoustic set of blues standards and originals. Pete played all the instruments on the release...a true "Solo" outing.


REFERENCES:

Highway To Hell. The Life & Times of AC/DC Legend Bon Scott by Clinton Walker. Sun Australia, 1994.

Liner Notes to "Boogie, Balls & Blues Vol. 1" (Raven LP 30) by Ian McFarlane of Juke Magazine, 1987.

Aus.music news posting of recent Rose Tattoo history by Mark McGrath. 4/18/96.

Geordie Leach interview of 6/97.

Rob Riley interview of 1/98.

Spurt! magazine No.2. 1977, Rose Tattoo interview.

AUTHOR'S NOTE:
I wrote this history using six sources, my own knowledge, and several assumptions. Corrections, updates, etc. are encouraged.

Copyright © 2002 by Peter Gormley


---
© 1997-2007 by Peter Gormley

"REMEDY - The Rose Tattoo Home Page" and its contents may not be reproduced, uploaded, posted, transmitted or distributed in any form, or by any means, without prior written consent of Peter Gormley.