---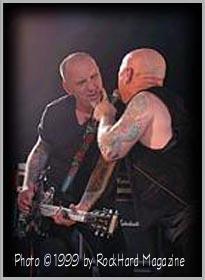 Rose Tattoo jetted to Germany in July of 1999 to play 3 dates as part of the summer stadium concerts headlines by German rockers Böhse Onkelz. The venues were:

02.July 99: Open Air in Hagen, Ischeland Stadion (near Dortmund)
03.July 99: Open Air in Mannheim, Maimarkt-Gelände (70,000 seat venue)
04.July 99: Open Air in Salzgitter Lebenstedt (near Braunschweig/Hannover)

By all accounts the Tatts were bloody brilliant, bringing down the house at all three shows. The setlist for the Mannheim show was:

Out Of This Place
One Of The Boys
Assault & Battery
Tramp
The Butcher And Fast Eddy
Astra Wally
Juice On The Loose
Remedy
Rock´n´Roll Outlaw
Manzil Madness
Bad Boy For Love
We Can´t Be Beaten
Nice Boys

Its also been reported that they performed Suicide City at Hagen and/or Salzgitter.


---
© 1997-2007 by Peter Gormley

"REMEDY - The Rose Tattoo Home Page" and its contents may not be reproduced, uploaded, posted, transmitted or distributed in any form, or by any means, without prior written consent of Peter Gormley.