---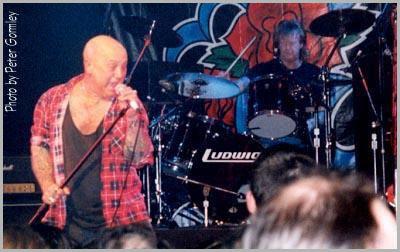 22 June 1998: Bridge Hotel - Sydney, NSW: Chris Turner Benefit

Tatts were incredible. They kicked off with Bad Boy for love. The 6 song set also included Nice Boys, One of the Boys, Going Down (the Don Nix song as covered by Lobby Lloyds Colored Balls and Jeff Beck) Astra Wally and Rock and Roll Outlaw. I did a tape of the set and took a bunch of photos. I believe over 12,000 dollars was raised for Chris Turner.

Steve Danno-Lorkin.



02 July 1998: The Footy Show

On the 2nd of July 1998,a rare moment in rock and roll occurred, Rose Tattoo appeared in front of an audience almost as ugly as the band themselves, the occasion being a nationally televised Rugby League talk show called The Footy Show in which various football authorities discuss the weeks events, mixed in with boofy footyheads dressed in drag performing their vision of comedy.

The Tatts decision to appear on this program was a stroke of genius in that in gets them in front of a shit load of people. Footy Show host, a former Rugby League great who calls himself Fatty, introduced the band as "one of the greatest rock and roll bands in the world", and there they were. Mick Cocks opening chords set the scene for Rock And Roll Outlaw the sound is fat and pumping, it seems the days of shitty sounding T.V appearances for bands is well and truly over. Peter Wells slide is so sharp you could cut a steak with it. And Angry...the face most Australians know as the man from The Midday show, is in incredible voice. Most singers lose a lot of vocal range and spirit in their voice as they get older (Mick Jagger springs to mind) but Angry is flying, sounding as tough as ever. And back on bass, original Tatts bass player Ian Rilen, the man who wrote Bad Boy For Love, Snow Queen and Astra Wally, before leaving the band in 1977 to go punk rock with X, has returned to the band he helped form. Not only has this chap got the best collection of pants in Sydney but he's still got that beaten up Fender Telecaster bass he's been using for 20 years. Rilen may not be as tight as Geordie Leach (who couldn't perform on this tour due to work commitments) but he more then makes up for it with power and attitude. And of course not forgetting Paul Demarco who fits into the Tatts brilliantly, realistically nobody could fill Dallas "Digger" Royal's shoes other then Paul.

Unfortunately the band only got to do one song, but I'm sure that one song helped sell tickets for their tour with The Angels which is due to hit Sydney during the start of August. Word from RPM Management is that the shows are pretty close to selling out so Tatts fans get in now at all costs!

Steve Danno-Lorkin.



05 July 1998: The Warehouse - Devonport, TAS
The TATTS re-forming? BULLSHIT! Playing in Tasmania ? (that's the little island State of Australia, particularly famous for the Warner Brothers cartoon character 'Tazmanian Devil') Time to book into the looney bin! Yes, it's hard to believe the mighty TATTS were back and touring with the other legends of Aussie rock, THE ANGELS. When I saw the ad on TV that they were touring Tassie, I was in a state of disbelief, but on Sunday July 5th, they were to play in Devonport, some 30 minute drive from home.

I've been a TATTS fan since 1978, and have collected a lot of their releases, as well as the individual band member stuff, but Tasmania is a back water and we miss out on a lot of tours so I've never seen the 'original' TATTS perform. Thankfully THE ANGELS have been a big supporter of Tassie fans over the years and have been regulars here.

I brought my ticket the day they went on sale and waited wondering whether the TATTS would live up to their 'legend' status after so many years! But I had no need to worry!!!!

Finally the day came, and to get into the mood quite a few coldies (beers) were in order, plus some loud TATTS on the HIFI were the go. The show was an early one, so about 6.45 I hit the venue with a few mates. I really wanted to get the TATTS autographs and I took along their first album plus the first 3 BUFFALO albums which Pete Wells was a member of. The venue was 'The Warehouse' which holds about 400 people.

The local support band, with a fine female singer, kicked off at 7.00pm and for some strange reason played alot of AC/DC covers (why I can't understand, ha ha ha!!!!).

A couple of beers later, the mighty TATTS hit the stage and as soon as the opening bars of "Out Of This Place" started, you got the feeling that they meant business! They were LOUD, MEAN & tight! The boys ripped through about a 60 minute set with an arrogance that verified the TATTS legend, they were brilliant!

The set included -
Out Of This Place, Rock'N'Roll Outlaw, Nice Boys, The Butcher & Fast Eddie, One Of The Boys, Remedy, Bad Boy For Love, Tramp, Astra Wally, Assault & Battery, Suicide City, & Going Down. (not 100% accurate due to alcohol intake!!!!!) My personal favourites were Remedy & Astra Wally, they kicked fuckin arse!!!!!!

Angry strutted the stage with pure arrogance, with Pete Wells (Aussie guitar hero) his usual laid back self filling the stage with cigarette smoke as he puffed away while delivering the the slide sound that identifies the TATTS. Mick Cocks laid down a blistering rhythm, Ian Rilen looked positively evil while enjoying himself laying down a very solid bass & Paul DeMarco (acca Fred Zeppelin) provided the back beat of a very solid rhythm section.

I had a great night and managed to get back stage for a few minutes to meet Pete Wells thanx to John Baxter, Pete's old mate from BUFFALO ( early Aussie legendary band!). I got the first TATTS album fully autographed which I was totally stoked about. Pete Wells also signed the BUFFALO albums I took, man that was a buzz as I love that band.

Thanx to the TATTS for coming to Tassie and giving rock fans here the oportunity of seeing one of Australia's true rock legends perform (alongside AC/DC, ANGELS, BUFFALO, COLOURED BALLS, BAND OF LIGHT!!). You never let yourselves down & only reaffirmed your legendary status in Aussie Rock'N'Roll, we'd love to see you back again! Also thanx for the loss of hearing for the following 2 days, it was worth it!!!!!!

ROCK'N'ROLL IS KING

Michael Eagling



05 August 1998: R.S.L. - Fairfield, NSW
As Sydney endured it's worst storms in years, a storm of another sort blew into the Fairfield R.S.L. on Friday night, the "All Hell Breaks Loose!!" Tour, featuring the Angels and Rose Tattoo. The reunited Tatts added another chapter to their legend, as they mercilessly ripped their way through an hour's worth of brain buzzing rock and roll.

This Tatts lineup features 4/5 of the original band - Angry Anderson, Peter Wells, Mick Cocks and Ian Rilen, - with former Scattered Aces drummer Paul De Marco filling in (as he did in 1993) for the late Dallas "Digger" Royal.

The band was charged from the start, opening with the classic 1-2 punch of "Out Of This Place" and "Bad Boy For Love". Lead throat Angry Anderson sounded better than ever, as his dead on vocals tore through the wall of noise. "Assault & Battery" and "Tramp" followed in rapid succession, and at this point it was clear that the Tatts meant business.

Peter Wells was in command at stage left, equal parts cigarette smoke and attitude, generating slide work so sharp that you'd swear he was wielding a knife. Mick Cocks and Ian Rilen pumped out the rhythm from stage right. At times Mick's hand was a blur, while Ian prowled the stage like the original bad boy he is. Combined with Paul De Marco driving the beat in the "engine room", it was clear that the Tatts were back.

The celebratory "Rock and Roll Is King" provided somewhat of a breather, but that soon ended when Mick lashed out the opening chords of "Remedy". Angry sang like his life was on the line, and the band was right there with him. Yes, the Remedy is indeed Rock and Roll, and the Tatts were providing megadoses.

"The Butcher & Fast Eddy" followed, a cautionary blues tale highlighted by Mick's extended guitar solo. "Rock and Roll Outlaw" led into "One Of The Boys", and then Peter Wells familiar chiming slide intro of "Astra Wally" as the Tatts once again moved into the fast lane. Angry looked like a man with 20,000 volts running though his body as he spat out the story of that "real cool cat", while the 3 headed rhythm section of Mick, Ian and Paul drove the song at an unforgiving pace.

An extended version of the classic "Nice Boys" topped off the set, as the punters provided background vocals while Angry tapped into the ghost of Elvis for inspiration. It was a stirring climax to an unforgettable evening, as Rose Tattoo demonstrated in whiplash fashion that they weren't "Nice Boys"...and they do play "Rock'n'Roll". The King was most certainly smiling down on them.

Peter



11 August 1998: Labour Club - Belconnen, ACT

Well. Here's a review by someone who's seen the tatts nearly 50 odd times in his life and who couldn't help but see them one more time again. The Labour Club is a large auditorium with a big dance floor below the stage and area at same level as the stage around the edges. I'm telling you this because the sound engineer couldn't get the mix right for the Tatts first three songs. The Tatts performance - brutal best sums it up. They were louder than ever - great - and played as if they were really enjoying it. The friend I went with who had never seen them live reckoned the Angels were a "pop" band alongside the Tatts.

Highlight were Remedy, Astra Wally, Tramp, the Butcher and of course Nice Boys. The set was primarily the first album (without TV) and some of the second album. Only disappointment - no Snow Queen - would have thought Snowie would have been rolled out with Ian laying in the band. It was good to see Ian Rilen with the band. I always thought Ian and Lobby Lloyd were the two great Tatts bass guitarists. Ian played menacing bass. Mick Cocks was a rythmical as ever - what a great sound he gets. My great disappointment was that he didn't play his trademark black Les Paul with the gold pick-ups. I suspect it's been worn out by now but that guitar defined the thick sound of the early Tatts. Pete was splendid as ever and deserved better from the sound mixer. No trademark red speaker b x and different guitars these days. Pete playing a strat!!!!!! In the end I gave up and went down and stood near the mixing desk. Angry came through loud and clear on some songs but also suffered at the hands of the mixer on a few others.

A couple of comments on older times - the Hordern Pavillion gig in 1982 was great but the Tatts at the Tivoli in Sydney in January 1983 were awesome. Never played or sounded better than that night. Other awesome gigs - the Fairfield Hotel in 1979 - $4 bucks to get in and the stage was the same level as the bar (ie no stage) - the band - Angry, Pete, Lobby and Digger. A great set with an encore of Nice Boys with a group of us standing literally a metre in front of Angry. I'll never forget it. I love this band. Here's to a great night tonite at Selina's.

Dale


---


© 1997-2007 by Peter Gormley

"REMEDY - The Rose Tattoo Home Page" and its contents may not be reproduced, uploaded, posted, transmitted or distributed in any form, or by any means, without prior written consent of Peter Gormley.